Bruce M. Small, M.Ed.
Registered Psychotherapist

Toronto office: 21 Carlton St., Unit 3407, (Buzzer 2638), Toronto Ontario Canada M5B 1L3
Tel: (416)-598-4888 Cell/Txt: (416)-274-1628 Email: bruce@envirodesic.com
Website: http://www.brucesmall.com



Whoa! Therapy? You've got to be kidding, right? No, this is for real. If you have any reservations about the idea, click here first for a somewhat tongue-in-cheek discussion of objections to psychotherapy.

Bruce McGregor Small carries on a therapeutic practice in downtown Toronto, just steps away from the College Subway Station at College/Carlton Street and Yonge Street. Bruce has a comprehensive educational and life background that includes engineering, theoretical physics, systems theory and design science, thirty-five years experience in the field of environmental health, and over twenty years in his own psychotherapy practice. He has completed an Honours B.Sc. in Psychology at York University (2012) and a Master's of Education (M.Ed.) degree in Counselling and Psychotherapy at University of Toronto's Ontario Institute for Studies in Education/OISE (degree conferred June 2014). Bruce works directly with his clients to help them discover and explore any maladaptive automated behaviours and to free themselves from the bounds that these create. The process is respectful, gentle, truthful, and taken at a natural pace designed to meet a client's personal goals. If you would like more details about Bruce's background, click here to download his full resume.

In 2007 the Ontario Government began a process designed to bring government regulation to the field of psychotherapy, which was previously unregulated. The College of Registered Psychotherapists of Ontario came fully into existence by proclamation as of April 2015, and many therapists, Bruce included, have been accepted for registration. Bruce's upgraded educational credentials were more than sufficient to support his registration in the category of Registered Psychotherapist.

Bruce has recently begun to highlight his work with men – helping them loosen themselves from decades of social programming including sexism, misogynysm and macho training. Many women have experienced bad treatment at the hands of men, and while supporting women in their recovery from trauma and helping them regain power and rid themselves of internalized symptoms of oppression is essential, it is important that therapists also work in parallel to assist the men who have contributed to ill treatment of women in changing their internal attitudes and outward behaviour, so that the cycle is never repeated. For a more complete discussion of Bruce's work with men, click here.

Bruce can be reached by email at bruce@envirodesic.com, by phone to (416)-598-4888, and by text to (416)-274-1628. Individual or couple's therapy sessions can be arranged at your convenience either in person or virtually.

In the interest of full disclosure, readers contemplating therapy are invited to download informed consent documents in advance. These include a general description and consent to the therapeutic procedure (click here for individuals and here for couples), a client data form and consent to communications (click here for individuals and here for couples), and a fee disclosure form and application for sliding scale (click here). The first session is usually 1-1.25 hours in length, and is without charge so that a potential client may meet Bruce, review informed consent documents, ask questions, air concerns and preview issues and goals, without committing to continue therapy.

In general, Bruce uses documented and accepted general approaches to psychotherapy such as unconditional positive regard, Socratic questioning, and paying careful and unbiased attention to your story and to your feelings about your life. More specifically, he may also apply some or all of the precepts of documented and accepted specific approaches to therapy such as Personal-Centred Therapy by Carl Rogers, Cognitive Behavioural Therapy by Albert Ellis and others, Narrative Therapy by Michael White, Narrative-informed Emotion-focused Therapy by Lynne Angus and Les Greenberg, Script Theory by Eric Berne and Claude Steiner and others like Richard Erskine, as well as aspects of Guided Imagery, Mindfulness, Brief Therapy, Solution-Focused Therapy, Trauma Therapy, Feminist Therapy, Behavioural Therapy, Group Therapy, Neuroplasticity and other such approaches documented in the psychotherapy literature.

Bruce also uses various models and images that help him discuss with clients how our personalities work. For example, he has developed Conscious Self-Integration (CSI) as a model which helps clients understand different aspects of their own personalities and how they can restructure how their various inner components interact with each other.

Bruce is capable of dealing with a wide range of client issues and goals, but whether or not he can proceed with therapy will depend on the initial meeting and a careful assessment as to whether a particular client's needs lie within his areas of expertise. Over the past fifteen years Bruce has developed a number of special interests and gathered experience in many different issues, including stress, relationships, anxiety, depression, trauma, abuse, sexual orientation and gender, school and work challenges, grief and loss, life planning, men's programming, internalized oppression and others. For a more complete discussion of his areas of particular strength and experience, click here.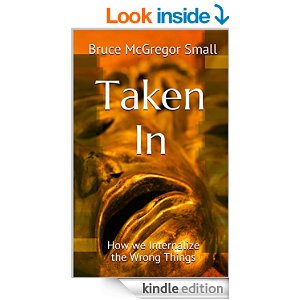 Bruce is also an author of a series of easy-to-read psychology books designed to streamline the counselling process. The first one in his Helping People Change Series is entitled Taken In: Why We Internalize the Wrong Things and is available from Amazon.com and Amazon.ca and other Amazon world sites (searchable under the author name Bruce McGregor Small). He is currently working on a second book entitled Crashing In: Why Relationships are Full of Surprises. The subject of internalization is also presented in an April 2015 podcast interview done with Andrew McGregor of The Hermit's Lamp. Bruce is also an accomplished speaker and can address your group meeting or conference on many interesting topics (check out Speaker's Challenge.)

Video samples of Bruce's thinking and teaching about people and psychotherapy can be found on his YouTube channel Bruce Small Therapist. Bruce Small Therapist can also be found on Facebook, Google+, and Psychology Today.